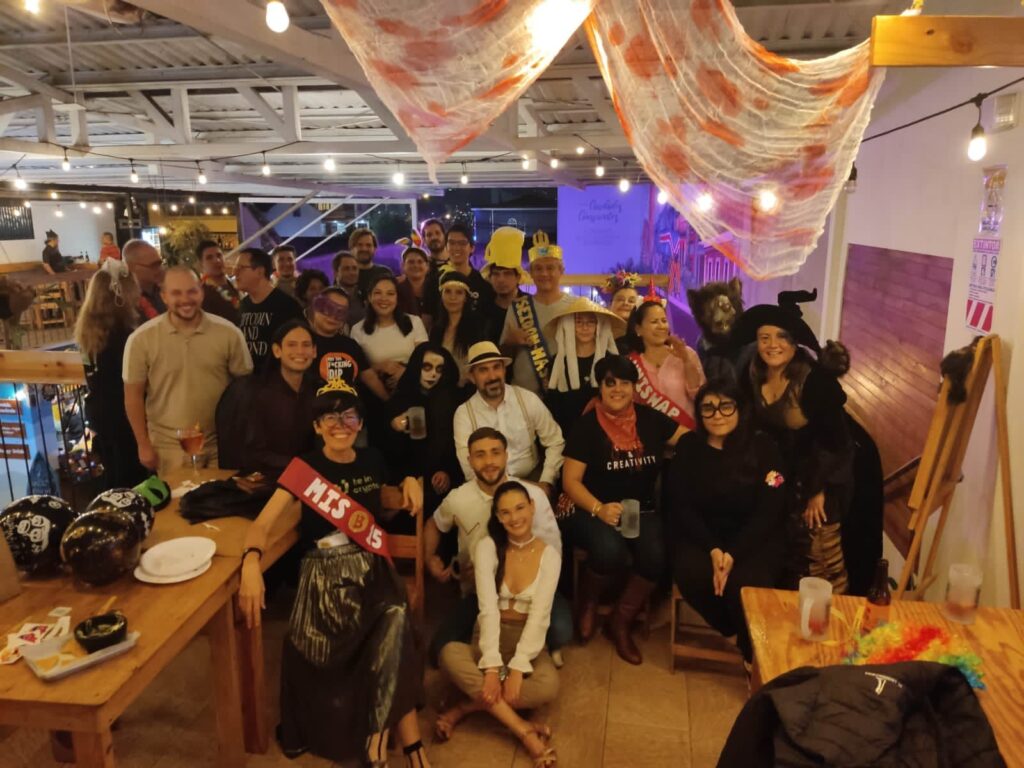 On November 2, the Lolita Garden in Barrio Escalante was transformed into an enclave of mystery and celebration, where blockchain technology and the spirit of Halloween were intertwined in an unforgettable night. La CriptoCantina® opened its doors to the beyond, welcoming crypto enthusiasts dressed in costumes and ready to immerse themselves in an adventure of knowledge and fun.
With the second floor adorned with spooky motifs, the atmosphere was charged with excitement and curiosity. The evening's facilitators, Roxana Zamora and Julieth Barrero, guided the event with a mix of valuable information and themed entertainment.
A Costume Contest
The creativity dazzled with intensity as the participants paraded in their costumes. They highlighted the elegant bitcoin quinceanera, celebrating the 15 years of the first cryptocurrency along with its companion, the original Poseidon Hash. Catrinas, witches, pirates, vampires, crypto gangsters and the Bitcoin wolf were just some of the attendees who enriched the evening. The highest award of the night went to the participant who embodied the greatest fear of any crypto investor, who won the first t-shirt issued by the Cripto Cantina "Congratulations". Although the competition was fierce, each costume revealed the passion and enthusiasm the community has for this emerging digital world. The night was also a showcase for those who proudly displayed their crypto merchandising.
Pizza and Beer: Fuel for Fun
Thanks to the collaboration of Pizza DAO, attendees were able to enjoy free pizza, recharging their energy to continue participating in the planned activities. Additionally, Cripto Cantina's limited-edition beer mugs not only offered a toast to the community spirit, but also supported a greater cause, raising funds for future events.
An Event to Remember
At the end of the night, not only did the winner of the costume contest receive a prize. Crypto trivia participants also earned recognition. All attendees took with them the value of a collective experience, the ratification of the innovative spirit and the vision of a future in which technology and traditions merge in an extraordinary way.
The Halloween Crypto Cantina was more than a party; It was a testament to the power of community and a window into how crypto culture can positively influence the way we gather and celebrate.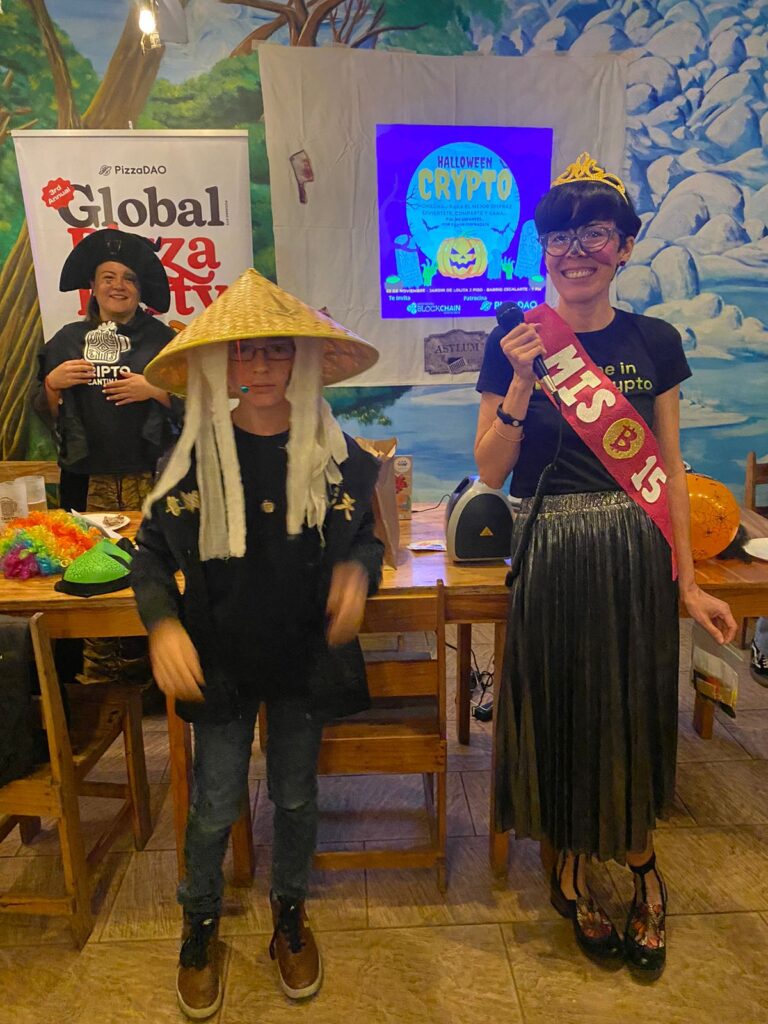 In recognition of their participation and festive spirit, all registered attendees are eligible for an exclusive POAP for the event. This POAP not only symbolizes your attendance, but also celebrates your commitment and enthusiasm for the crypto community. To claim your POAP, please follow the instructions that will be sent to you in the mail. Don't miss your chance to add this digital badge to your collection!
We hope everyone who attended felt both the chill of Halloween and the warmth of our community. Until the next meeting at the Crypto Cantina®!